Thanks to the capacity for preparing large quantities of food, pressure cookers are perfect for use in a professional kitchen, as well as cooking inexpensive meat cuts into juicy feasts in only a short amount of time.
The range of pressure cookers available at SousVideTools.com are all made of durable stainless steel as well as a safety overpressure valve and are suitable for all hobs including induction, so it's really just a case of selecting the size you need.
Remember, when thinking about the liquid capacity of your future pressure cooker, don't forget to account for leaving up to a third of the cooker unfilled to allow steam to build in the unit: essential for optimum results.
View our comparison table below to see which pressure cooker is best for your professional kitchen.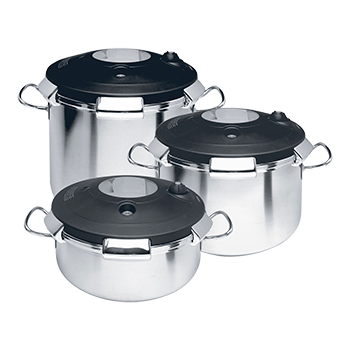 Here's our simple guide to buying Pressure Cookers
Why buy a pressure cooker?
A pressure cooker works on the simple principle of steam pressure; in short, it's a sealed pot with steam inside which builds up a high pressure environment which helps foods to cook quicker.
You can cook, within reason, almost anything in a pressure cooker; from rice, chickpeas and beans (far quicker than by other methods) to foods that need to be tenderized like braised meats and roasts.
There's very few foods which you can't cook in a pressure cooker and it's a convenient way to speed up the cooking process.
In short, the main benefits of pressure cooking are:
Faster cooking
Foods retain nutrients
Use to preserve foods
Less energy used in cooking
When it comes to buying a pressure cooker, it can be a little confusing at first, but to help you out, here's our suggestions for the most suitable products.
We do, however, offer a much wider range of pressure cookers. See our product comparison below to help you choose the right product or give us a call on 01524 770060 to discuss your requirements in more depth.
Product
Home Use
Professional Use
Size
Benefits
Price
Artame 6L Luna Pressure Cooker
240(Ø)x145

• 6 Litre Capacity
• Fast cooking at 10.15psi
• Superfast cooking at 12.33psi
• Easy to use handles
• Unique locking system
• Pressure level indicator
• Can use for regular cooking

£149.00
ex. VAT
Artame 10L Luna Pressure Cooker
320(Ø)x130

• 10 Litre Capacity
• Fast cooking at 7.26psi
• Superfast cooking at 11.6psi
• Easy to use handles
• Unique locking system
• Pressure level indicator
• Can use for regular cooking

£249.00
ex. VAT
Artame 15L Luna Pressure Cooker
320(Ø)x195

• 15 Litre Capacity
• Fast cooking at 7.26psi
• Superfast cooking at 11.6psi
• Easy to use handles
• Unique locking system
• Pressure level indicator
• Can use for regular cooking

£259.00
ex. VAT
Artame 23L Luna Pressure Cooker
320(Ø)x295

• 23 Litre Capacity
• Fast cooking at 7.26psi
• Superfast cooking at 11.6psi
• Easy to use handles
• Unique locking system
• Pressure level indicator
• Can use for regular cooking

£274.00
ex. VAT