Sous vide training courses at our state of the art training facility
Sous Vide Training & Support
The use of sous vide or water bath cooking is rapidly growing amongst Michelin star chefs, but there is a scarce supply of information available on this technique for aspiring chefs or foodies; let alone training. At sousvidetools.com we decided to do something about this and have built our own state of the art cookery school in London. (W2, 39 Connaught St, London W2 2AZ) and Lancaster (SousVideTools.com, Central Barn, Hornby Road, Lancaster, LA2 9JX).
Intro
An introduction in to Sous Vide and the healthy & safety of this style of cooking
Cooking
Our Head Chef will prepare a number of dishes to show you the variety of Sous Vide cooking
Lunch
The proof is in the tasting. A Sous Vide cooked lunch will be provided
Q&A Session
There will be lots of questions asked throughout the day and hopefully we can answer them all
Handbook
We will provide a handbook which recaps what has been taught on the day and some recipes to get you going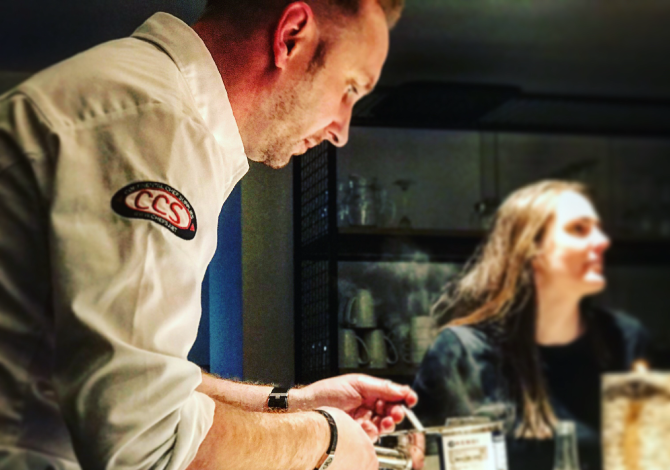 Run by our Chef Director, Chris Holland
From our state of the art training facility we are offering courses run by our Chef Director Chris Holland, former Head Chef at the 3AA Rosette Alderley Edge Hotel.
Chris will be offering sous vide training courses, where you can come, learn and understand more about this important cooking technique. We provide an aftercare system which prides itself on making the grey areas about sous vide a little more transparent. On top of our training courses sousvidetools.com can offer bespoke support with the development side of your menus, the training of staff and food safety (HACCP) requirements.
The Training
During the training you will learn the origin and evolution of sous-vide; the why-and-how it made its way into the kitchens of the world's top Chefs. You will learn the reason for which there is a right temperature to cook each different product and how to put it into practice using your own recipes. You will learn to master the times and temperatures to control the colour, tenderness and flavour of your product. Part of the training is devoted to learning about the right equipment: How to select, utilise and maintain it. There is no single way to cook sous-vide and because scientists love experimenting as much as Chefs, most of the time is dedicated to hands-on training. Under the direction of our development chef Chris Holland, you can experiment and taste to discover the many possibilities sous-vide has to offer. Over the full day course you will see these techniques as they are applied to meat, poultry, fish, seafood, vegetables, fruits, sauces, herbs and aromatics. Lastly, the focuses will be on microbiology, bacteria, good food safety and shelf-life in order to achieve the best quality and the safest products. The class is mix of lecture and hands on activities which leads to a very informative and fulfilling experience.
Areas Covered
Relationship between cooking pressure and precise temperature
Origin and background of sous-vide
Controlling the colour, tenderness and flavour of your food
How to choose, calibrate and maintain the right equipment for your kitchen
Hands-on sous-vide training and experimentation
Creating your own sous-vide recipes
Sous-vide techniques for meat, poultry, fish, seafood, vegetables, fruit, sauces, herbs and aromatics
Microbiology, bacteria, food safety and shelf life for safe and high-quality products
Working with Campden BRI
As the UK's foremost supplier of sous vide and vacuum packing equipment we have teamed up with Campden BRI, the UK's leading provider of practical scientific, technical and advisory services, to validate our sous vide training content and produce our own, unique, sous vide training guide. We felt it was appropriate that we should only offer our customers the best guidance on the correct use of sous vide cooking equipment. Campden BRI is the Food Standards Agency's (FSA) Master Vendor for the provision of specialist training courses and has done all the FSA's research around sous vide guidance, so who better for Sous Vide Tools to partner with?
Please Note: Our training days take place at either our state of the art training facility in Lancaster (SousVideTools.com, Central Barn, Hornby Road, Lancaster, LA2 9JX) or W2 London. (W2, 39 Connaught St, London W2 2AZ) .